Place your listing on this line.
---

Alphabetical Listings

IFGE - International Foundation for Gender Education
IFGE advocates for freedom of gender expression.
We promote the understanding and acceptance of All People: Transgender, Transsexual, Crossdresser, Agender, Gender Queer, Intersex, Two Spirit, Drag King, Drag Queen, Queer, Straight, Butch, Femme, Homosexual, Bisexual, Heterosexual, and of course - You!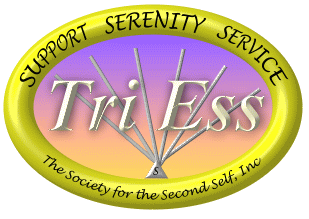 Tri-Ess An international social and support group for heterosexual crossdressers, their partners, the spouses of married crossdressers and their families."
CDSO for Wives and Significant Others
A forum for wives and significant others of crossdressers.
---
Emerald City
The Emerald City - a social, educational and support group for crossdressers based in Seattle, Washington, USA. This includes crossdressers, transsexuals, and other individuals who identify themselves as transgendered.
P.O. Box 31318
Seattle, WA 98103 (425) 827-9494 Email
Cornbury Society, The
The Cornbury Society, a social,

educational

and support group for crossdressers based in Vancouver, British Columbia, Canada.
P.O. Box 3745
Vancouver, BC V6B 3Z1(604) 274-7393 email
California

CHIC
P.O. Box 17850, Long Beach, CA 90807
Support for Heterosexual Cross Dressers
Diablo Valley Girls (DVG)
P.O. Box 272885, Concord, CA 94527-2885
Telephone (925) 937-8432 (Answered live Mon-Thurs from 7-10 p.m. The recorder is always on.) email

The Pacific Center, Berkeley California
2712 Telegraph Ave., Berkeley, CA 94705 510-548-8283
Rainbow Gender Association
P.O. Box 700730, San Jose, CA 95170-0730 408-984-4044
The Mid Peninsula Transgender Group
Woman's Health Boutique
1115 South B Street, San Mateo, CA 94401, 650 357-9236 Email
The Neutral Corner San Diago California
Support group for the entire transgender community.
Sacramento Gender Association (SGA) Blue Rose Chapter
TThe Sacramento Gender Association (SGA) is a non-sexual, membership-based organization serving the recreational and educational needs of the transgender community, their spouses, significant others, family members and related professionals
P.O. Box 162907, Sacramento, CA 95816, 916 290-7226
TransBayTransBay If you are transgendered — that is, if you are a crossdresser, a transsexual, intersexed, bigendered, an androgyne or in any other way transcend the gender assigned to you at birth — and you live in the San Francisco Bay Area, then TransBay is for you.

TransGender San Francisco (TGSF)
TransGender San Francisco is a group for all members of the transgendered community that includes female and male cross dressers, transvestites, drag queens and kings, female and male impersonators, intersexed individuals, pre-operative, post-operative and non-operative transsexuals, masculine females, feminine males, all persons whose perceived gender or anatomical sex may be incongruent with their gender expression, and all persons exhibiting gender characteristics and identities which are perceived to be androgynous.
PO Box 426486, San Francisco, CA 94142-64861 415 564-3246
TRI-ESS ALPHA
Write to: Tri-Ess Alpha, Box 411352,
Eagle Rock Sta, Los Angeles, CA 90041
Contact Kathy Helms 818 352-9448
Back To Top
Also See:
Breast Forms

Clothing
Cosmetics/Fragrances
Lingerie
Shoes
Wigs
Ad Your Listing Here
Update my listing